Meet Jo-Anne & Carolyn, Your Awesome Gifting Experts
Jo-Anne and Carolyn, owners of Hallmark Awesome Gifts, have a passion for providing YOU with every unique and awesome gift you could imagine!
---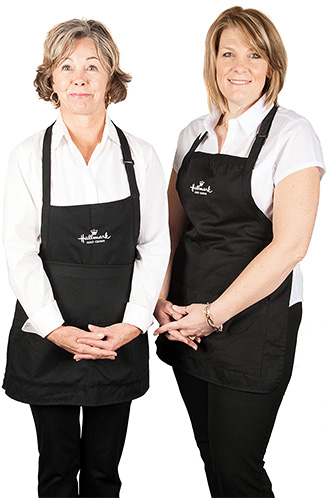 60 years of retail experience
Together Jo-Anne & Carolyn have more than 60 years of combined retail experience, which is why they have been so successful in creating a vision of retail excellence online and offline.
Jo-Anne & Carolyn share the same passion when it comes to memorable gifts, hence their gifting partnership! They wanted to create places where people come to get something special for their loved ones, and somewhere you can always count on to find exactly what you are looking for.
In 2008, they opened 5 Hallmark brick and mortar gift stores in the Burlington and Milton Ontario areas. Their stores are part of over 300 retail stores that make up the Hallmark Gold Crown network. They work in partnership with Hallmark to provide customers with quality products and services in a world-class retail environment. 
Knowing that their unique gifts needed wider reach they added this fabulous online store so that anyone can participate in the gifting magic!
The 'Life's an Occasion' Mantra
Jo-Anne & Carolyn truly believe that life is an occasion and that it should be celebrated! They are constantly looking for the latest gift ideas by shopping the world to ensure they have a huge selection of one-of-a-kind gifts – for all those "Life Occasions" or just those "gotta have that."
Their goal is to create an awesome shopping experience, whether it's in one of their 5 brick and mortar stores or online!
---