We're thrilled to have Handmade by Our turquoise door join our Hallmark Road Show at our Milton Crossroads location on Saturday, October 30, 2021. Here is a sneak peek at what they will be sharing at our upcoming Hallmark Road Show. 
---
Supporting Local Business
Here at our locally owned Hallmark (O/A by Twin Phoenix Corporation), we wanted to create a place and opportunities for small businesses to be able to reach out to more members of their community and showcase their products/services. Currently, we have 5 Hallmark stores that serve the Greater Toronto & Hamilton area and we are looking for small businesses to come and join us to meet our amazing customers. Small business helping small businesses. 
---
Hallmark Road Show - October 30, 2021
Date: Saturday, October 30, 2021
Location: Milton Crossroads
Vendor: Handmade by Our turquoise door
Time: 11 am - 4 pm
Show-Stopping Deal
Handmade by Our turquoise door is excited to offer 10% off all porch leaners, includes double-sided leaners and seasonal element addons.
About Handmade by Our turquoise door and More from the business owner...
I've always loved to craft, so when I decided to leave my corporate job to focus on family, I turned my love of crafting into a way to supplement our family income.

I'm located in Milton where my business focusses on handmade wood signs and home décor items including cushion covers, door tags, tea towels, growth charts, wooden houses etc.

I love working directly with my clients to find the perfect piece to fit their own style, décor and color scheme, and am so happy when I know I've created a unique gift for them to give as a gift for someone special.

My bestselling item has been my double-sided porch leaners with interchangeable seasonal elements. Customers love that they have the ability to easily change their outdoor décor and don't need a lot of space for storage.

My silk-screened cushion covers are also very popular as changing a cover on an existing cushion is an easy and inexpensive way to refresh your home décor or easily add a seasonal touch to your home.

I take great pride in every item I make and am looking forward to sharing my love of crafting with you.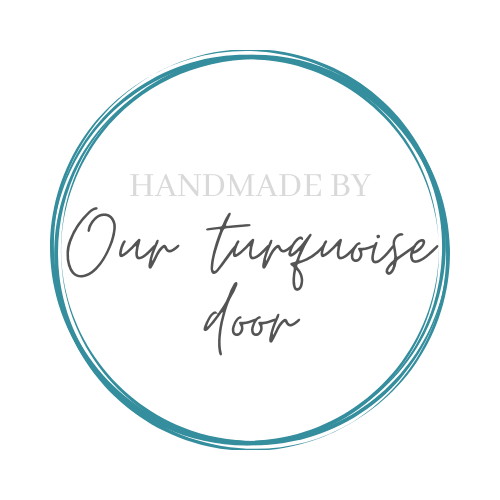 ---
Handmade by Our turquoise doors Products



---
0
comments